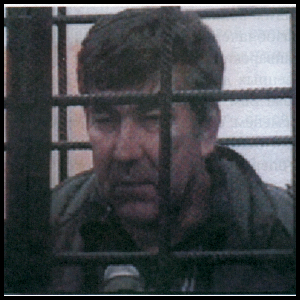 Date of Birth: January 8, 1955, in Takhtabazar in Mary province
Citizenship: Russian and Turkmen[1]
Position when arrested: Businessman, owner of company, Turkmenodzhak
Residence at time of arrest: Ashgabat
Date of arrest: Yklym Yklymov was arrested December 23, 2002, and a video of his "confession" was shown on TV on December 29, 2002. Prior to that, he was in hiding until December 21 at the apartment of H. Annaevoy. His and all of his family's arrest happened at night, arbitrarily, without witnesses. All of the Yklymov family's possessions were confiscated.[2]
Charges: Participation in the alleged assassination attempt on President Niyazov. He was convicted in January 2003 by the Supreme Court of Turkmenistan of violating Article 14 -101 Part 2 , paragraph "a", " b", "f", "g", "h", "i", "l", 129 h.3, 169 part 1, 2, 174, part 2, 176 part 1, part 2, 214, 218 Part 1, 2.3, 231 Part 4, paragraph "a", " b", 235 h.2 paragraph "a", "b", 254 part 4, paragraph "a", "b", 271 Part 3, Part 1 273 275 Part 1 and Part 3 287 of the Criminal Code of Turkmenistan. "Confessions" of the central 'enemies of the State,' including Yklym Yklymov, were placed on the pages of the pro-government daily Turkmen newspaper Adolat. Each confession was preceded by an editorial comment, all in abusive and derogatory terms.[3]
Sentence: Sentenced to life imprisonment with confiscation of property.[4]
Biography: Yklym Yklymov graduated from the Law School of the Turkmenistan State University. He worked in the district and regional committees in Ashgabat, the High Committee of the Komsomol of the TSSR, and in unions. He served about 10 years in the Ministry of Justice, including as head of propaganda and legal services for the Ministry of Justice. He was an entrepreneur and owner of the company, Turkmenodzhak.
Yklym Yklymov gave an interview in 1991 at the first and last edition of the journal Dayanch (meaning 'support'), which was in those years the only public announcement, made in Turkmenistan, in which the legitimacy of the election of Niyazov as President was called into question.
Information on arrest/treatment during imprisonment: Yklym Yklymov was among those tortured during arrest and imprisonment, as reported by others detained in connection with the November 25, 2002 events.[5]
Relatives Arrested/ harassed/detained: On November 25, 2002, at 11 AM, all members of the Yklymov family were taken from their houses by KNB and MIF officials, and brought to the house of Yklym Yklymov's mother, Edzhebai. Armed soldiers were posted inside and outside the house. Then they took Orazmammet away in handcuffs. The same day they took all of the males in the family, including those under age. The adolescents were abused and harshly beaten in prison. On November 28, 2002, at 2 AM, all the women and children were woken up, and the courtyard of the house was filled with KNB and MNS officials. Everyone was ordered to leave the house, without the chance to get dressed or get belongings, and was evicted into the streets. At this time approximately 50 women and children total were among those arrested, detained, imprisoned or harassed as part of collective punishment inflicted upon the Yklymov family.
Yklymov, Orazmammet ( See above);
Yklymov, Amanmukhammet (See p. 37);
Niyazdurdyev, Davlet ( See p. 48).
Current situation: Unknown. In March 2003, there were rumors that he suffered from a mental disorder: he did not recognize anyone and was always laughing.
———————–
[1] Komarovsky, Leonid. "Nado Prekratit Lydoedsky Regim Niyazova, Poka Tan Eshe Ostalis Lyudi." 12.12.2003. http://www.radiolenya.com/article3/. Accessed on 20 January 2014.
[2] Komarovsky, Leonid. "Nado Prekratit Lydoedsky Regim Niyazova, Poka Tan Eshe Ostalis Lyudi." 12.12.2003. http://www.radiolenya.com/article3/. Accessed on 20 January 2014.
[3] Memorial. "Vragi naroda (Tyrkmenskogo) na stranitsah Ashgabatskovo Ejedelnika 'Adolat'" Translation." 04.02.2003. Accessed on 10 January 2014.
[4] Ibid.
[5]US Mission to the OSCE. " US Concerned about Incidents of Torture in Some OSCE States." 9.10.2003. http://iipdigital.usembassy.gov/st/english/texttrans/2003/11/20031103181825rennefl0.7239954.html#axzz2n6fyJcFW. Accessed on 21 January 2014.