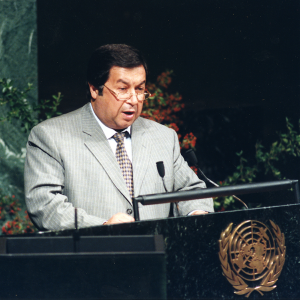 Date of Birth: May 25, 1949
Citizenship: Russian, possibly Turkmen
Residence at time of arrest: Living outside of Turkmenistan
Position when arrested: At the time of his arrest, Shikhmuradov had resigned from public service in Turkmenistan.
Date of Arrest: Declared wanted in November 2002. He was detained on December 25, 2002, 5 pm in his Ashgabat apartment. According to an unconfirmed report, he surrendered himself to the authorities. According to another version, the information about his whereabouts was leaked through a female doctor, who was called to give him injections due to heart problems. She told her husband, who informed the police. The police, however, did not believe that the information was accurate, and sent a police patrol to check the apartment. After those inside the apartment refused to open the door, the police called in reinforcements.
Charges: Four days after his arrest, without adequate time to review his case or access to an interpreter, on December 29, 2002, he was convicted by the Supreme Court of Turkmenistan of violating Article 14 -101 Part 2, paragraphs "a", "b", "f", "g", "h", "i", "l"; 169 Part 1, 2; 174 Part 2; 176 Part 1; 181 Part 2; 182 Part 2; 187; 195 Part 1; 214 Part 2; 218 Part 1, 2, 3; 229 Part 4, paragraph "a"; 231 Part 4, paragraphs "a", "b"; 235 Part 2, paragraphs "a", "b"; 242 Part 2, paragraphs "b", "c"; 254 Part 3, 4; 271 Part 3; 273 Part 1; 275 Part 1; 287 Part 2, 3; 291 Part 3 of the Turkmenistan Criminal Code.[1]
Sentence: Boris Shikhmuradov was sentenced in a closed trial to 25 years in prison: 5 years in prison, the rest in a penal colony with confiscation of property followed by living in a prescribed place for 5 years, and the prohibition to hold substantive and responsible management positions within 3 years.[2] On December 29th, 2002, Mr. Shikhmuradov's public confession was broadcast. On tape he recites his confession in a monotone, using wooden phrases. He is quite clearly under the influence of drugs, or otherwise under a great amount of psychological duress. He says that he was not in fact an opposition leader, but a Mafioso, and that he took drugs, drank alcohol, and deserved the harshest punishment.[3] The unrecognizable Boris Shikhmuradov appears along with the subtitle "terrorist."
On December 30, 2002, however, the People's Council (Halk Maslahaty), the then highest legislative body in Turkmenistan, amended the Criminal Code so that Boris Shikhmuradov could be sentenced to life imprisonment. Before this the Criminal Code stated that the punishment for the most serious crimes was a term of up to twenty-five years imprisonment. The speakers went so far as to try to reinstate the death penalty but were superseded by President Niyazov, who, invoking international considerations, proposed "life imprisonment" as the punishment for the most severe crimes.[4]
Biography:   Boris Shikhmuradov was born in Ashgabat in 1949 to an Armenian mother and Turkmen father. He graduated from Moscow State University with a degree in journalism in 1971. Between 1971 and 1992 he held journalistic and diplomatic positions at the Novosti Press Agency (after the collapse of the Soviet Union, "Novosti" became known as "Russian Information Agency Novosti," or "RIA Novosti," and is currently one of the largest state-owned news agencies in Russia) and the Ministry of External Relations of the USSR. In 1971 he had an editorial intern position in the Novosti's Main Editorial Office for the Far East Region in Moscow; in 1975 he became editor in the Novosti's office in Pakistan; in 1979 he was a senior editor in the Novosti's Main Office for Asia in Moscow; in 1986 he became Deputy Head of the Novosti's informational center in Delhi, and from April 1991 in Moscow. Since the beginning of 1992 he worked for RIA Novosti in India.
From 1983 to 1986, also he studied at the Diplomatic Academy of the Ministry for Foreign Affairs of the USSR. In 1986, he held senior positions in diplomatic missions and in the Foreign Ministry of the USSR. He worked at Soviet embassies in Pakistan, India, and was sent on missions to Turkey, Afghanistan, the USA, China, Singapore and elsewhere. On May 21, 1992 he became Deputy Minister of Foreign Affairs of Turkmenistan. On July 6, 1992 he became the First Deputy Minister of Foreign Affairs. On January 7, 1993 he became Deputy Chairman of the Cabinet of Ministers of Turkmenistan (responsible for science, education, health and foreign policy; and from March 1994–issues of foreign affairs, armed forces and law enforcement agencies.) Before March 1995 he was also simultaneously the Chairman of the State Commission on logistics of the defense complex of Turkmenistan and the Vice Chairman of the Council of the Defense and National Security of Turkmenistan. From January 6, 1995 he served as Deputy Chairman of the Cabinet of Ministers and Minister of Foreign Affairs of Turkmenistan.
On January 8, 1999, he became the Minister of Foreign Affairs of Turkmenistan. On July 28, 2000 he became Ambassador at Large, Special Representative of the President for Caspian issues and settlement in Afghanistan. At the same time he was the Rector of the National Institute of Sports and Tourism of Turkmenistan and the President of the National Olympic Committee. From 1999 to early 2001, Mr. Shikhmuradov repeatedly asked to resign. According to Mrs. Shikhmuradova, Niyazov responded: "only from the grave." They finally compromised and on March 11, 2001, Boris Shikhmuradov was made Extraordinary and Plenipotentiary Ambassador to the People's Republic of China. Niyazov told him: "travel, take a rest, and have a good think about it.…"
On October 11, 2001, he flew to Moscow and on November 1, 2001, while in Moscow, he announced that he joined the opposition and created the People's Democratic Movement of Turkmenistan. In November 2001, he went to Turkey. In November 2002, he flew from Istanbul to Uzbekistan where he entered Turkmenistan illegally.
Information on arrest and treatment during imprisonment: The last time Mr. Shikhmuradov's wife, Tatyana, saw her husband was on television, during his public confession at a public meeting, where fragments of the trial of Shikhmuradov and others were broadcast along with his "confession, recognition of all crimes, and exaltation of President Niyazov."
Since then, family members have had no word as to his location, the conditions of his confinement, his health, or even whether he is deceased or still living. Mrs. Shikhmuradova has on many occasions tried to find out information concerning her husband, but to no avail.[5]
According to unconfirmed reports, immediately following the alleged assassination attempt, Shikhmuradov went into hiding at the homes of acquaintances and at the Embassy of Uzbekistan.
Mr. Shikhmuradov's sister, Larisa, told the human rights group "Memorial," that her brother only had one meeting with his lawyer, Victoria Bagdasaryan. On December 27, 2002, Ms. Bagdasaryan received a copy of the indictment against Mr. Shikhmuradov, which was written in the Turkmen language, which neither Mr. Shikhmuradov nor Ms. Bagdasaryan spoke. Mr. Shikhmuradov, who had no time to review the case and was not allowed to meet with his lawyer a second time, was sentenced to 25 years imprisonment on December 29, 2002 and then life imprisonment on December 30, 2002. It is not known whether Ms. Bagdasaryan was allowed to plead his case in court but she was present on the 29th when his sentence was read. She refused to see any family members after the trial. In addition, family members never received copies of the accusations against Mr. Shikhmuradov and never learned where the trial took place.[6] All the information the family knows, either about the trial, the verdict, or the events of November 25, 2002 was gleaned from the Russian and Turkmen media.
During his confession, it was obvious that Mr. Shikhmuradov was under the influence of drugs. Leonid Komarovsky briefly saw him in jail during the first week of confinement and attested that he "looked completely worn out and had his head down." Mr. Shikhmuradov may well have been tortured.
Relatives arrested/harassed/detained: Professor Emmanuel Decaux states in his report, "In practice, there are three groups of persons repressed: those accused of being directly connected with the attempt, relatives of these persons, against whom charges have been artificially created and finally, persons who have been targeted on political grounds without any connection with the so-called attempt."[7]
In fact, even Victoria Bagdasaryan has stopped practicing law, and many other people connected with the events of November 25, 2002, have been punished. The judge in the sentencing court was forced out of Ashgabat and resettled in a distant district, and heads of the National Security Committee, the Ministry of the Interior, the General Prosecutor's Office, and the Supreme Court were all fired. Even Prosecutor General Kurbanbibi Atajanova, who condemned Boris Shikhmuradov in a report on Watan News Program, was convicted and is currently in prison.
Shikhmuradov, Konstantin (See p. 35)
Shikhmuradova, Aina (Boris Shikhmuradov's sister-in-law), together with her son, Aman (son of Konstantin Shikhmuradov), were summoned for questioning in the months of November and December, 2002. They were separated into different rooms and were subject to intimidation and abuse. Their house was seized and sealed on December 22, 2002. Although Aina managed to reclaim the house, it was demolished.
On June 27, 2007, Aina and Aman Shikhmuradov were sentenced each to three years imprisonment on charges of bribery and forging documents; this occurred because Shikhmuradova had allegedly given US $160 and documents to a driving school instructor who had promised to help expeditiously arrange a driving test for her son. Aina and her son Aman were released from prison in October, 2007 after serving three months.
Aina Shikhmuradova, prior to this, had a conversation with a Radio Free Europe/Radio Liberty (RFE/RL) correspondent, which may have precipitated the charges against her. Furthermore, after President Niyazov's death she had appealed to the newly created Commission on the Actions of Law Enforcement Bodies with a request to review the cases of Boris Shikhmuradov and two other relatives, her husband, Konstantin Shikhmuradov and their son Murad. She received an answer with regard to Murad, which stated only that he was "justly" sentenced.
Shikhmuradov, Aman (Boris Shikhmuradov's nephew and Konstantin Shikhmuradov's youngest son) was only fourteen when his father was sentenced to prison. He was repressed together with his mother, allegedly for paying bribes. He was released after three months of imprisonment due to pressure from foreign embassies and international organizations.
Shikhmuradova, Maria (Boris Shikhmuradov's mother) Despite her inability to leave the house due to her advancing years, Boris and Konstantin Shikhmuradov's mother was under constant surveillance and her house was guarded by two armed agents. Unwarranted searches had reportedly frequently taken place and she was often threatened, intimidated, and interrogated by agents from the Ministry of National Security. They demanded the addresses and photographs of relatives living in Russia. At the time, the 85-year-old did not receive any medical aid because her relatives, friends, and neighbors were afraid to enter her home for fear of being arrested. The nurse who cared for her was also called in for questioning. Maria Shikhmuradova passed away at the age of 93 in June 2011.
Shikhmuradova, Larisa (Boris Shikhmuradov's sister) lived in Russia and worked at the Research Library of Moscow State University. She also actively worked to draw public attention to the repression of her relatives. She was closely followed for a year afterwards by Turkmenistan Special Forces, who loitered under the windows of her apartment and by her workplace. She would often receive threatening telephone calls and she was once almost forced into an agent's car. Larisa Shikhmuradova died in Moscow in August 2004 at the age of 60.
Beknazarov, Begench (See p. 13)
Beknazarov, Amandurdy (the brother of Boris Shikhmuradov's sister-in-law, Aina) was 63 years old and in poor health when he was arrested on December 17, 2002. He was first detained for two days and forced to specify the location of his son, Begench. He was then held for twenty days in pre-trial detention (SIZO) without formal charges. During this time he was beaten and tortured. After Begench was arrested in 2005, both he and his wife Raisa were forcibly evicted from Ashgabat to Mary province. In addition, when his two older children living in Israel tried to make arrangements for their parents to travel there, both Amandurdy and Raisa Beknarazov's passports were taken away.
Beknazarova, Raisa (the sister-in-law of Boris Shikhmuradov's sister-in-law, mother of Begench Beknazarov) was also arrested on December 17, 2002 and held for twenty days in pre-trial detention (SIZO) without formal charges. She was also beaten and tortured during that time.
Djeren Beknazarova (the niece of Boris Shikhmuradov's sister-in-law, sister of Begench Beknazarov) was only nineteen in 2002. She was arrested along with her parents on December 17, 2002 and held for twenty days in pre-trial detention (SIZO). She was beaten and tortured, and was administered shots of unknown chemical substances.
Shikhmuradov, Serdar and Larisa Shikhmuradova (Boris Shikhmuradov's cousin and his wife) are highly qualified doctors, but both were fired from their jobs after the events of November 25, 2002. Serdar had gone to Russia before November 25, but his wife and children (one of whom was disabled in childhood) were not allowed to leave the country, despite the fact that they all had Russian citizenship. Their apartment was repeatedly ransacked, and Larisa was called in for questioning. The family was reunited in Moscow (their current residence) only after Serdar asked the U.S. embassy there for help.
Akopyan, Rita and Zurab (Boris Shikhmuradov's second cousin and her husband) were detained for three days for questioning on December 21, 2002, and their home was raided. Both were fired from their jobs. After this, for several years their family tried to leave the country, but each time they were pulled from their flight. Rita only managed to leave in 2008, and Zurab and their children a little earlier. They currently live in Armenia.
Current situation: Unknown. During a visit to Columbia University in 2007, President Gurbanguly Berdymukhamedov was asked by a graduate student about the status of Boris Shikhmuradov and Batyr Berdyev. President Berdymukhamedov responded that he is "positive they are alive."[8] However, there is no evidence either supporting or contradicting this statement.
—————–
[1] Memorial. "Vragi naroda (Tyrkmenskogo) na stranitsah Ashgabatskovo Ejedelnika 'Adolat'" Translation." 04.02.2003. Accessed on 10 January 2014.
[2] Ibid.
[3] Khudaykulova, Luiza. "Wife of Missing Turkmen Ex-Minister Boris Shikhmuradov Speaks Out," BBC News Asia,
December 28, 2012, http://www.bbc.com/news/world-asia-20815114. Accessed 29 May 2014.
[4] Decaux, Emmanuel. "OSCE Rapporteur's Report on Turkmenistan." OSCE, 12.3.2003. http://www.osce.org/odihr/18372
[5] The full extent of Mrs. Shikhmuradov's efforts as well as a full account of Boris Shikhmuradov's case is recorded in her Personal Statement on the Violation of Human Rights to the United Nations Human Rights Committee, an individual communication to the UN Human Rights Committee under Optional Protocol to the International Covenant on Civil and Political Rights. April 28th, 2011.
[6] Decaux, Emmanuel. "OSCE Rapporteur's Report on Turkmenistan." OSCE, 12.3.2003. http://www.osce.org/odihr/18372
[7] Ibid.
[8] Saidazimova, Gulnoza. "Turkmen President Urged To Continue Moving Forward On Human Rights," Central Asia Report: September 28, 2007, RFE/RL, http://www.rferl.org/content/article/1347651.html. Accessed 29 May 2014.